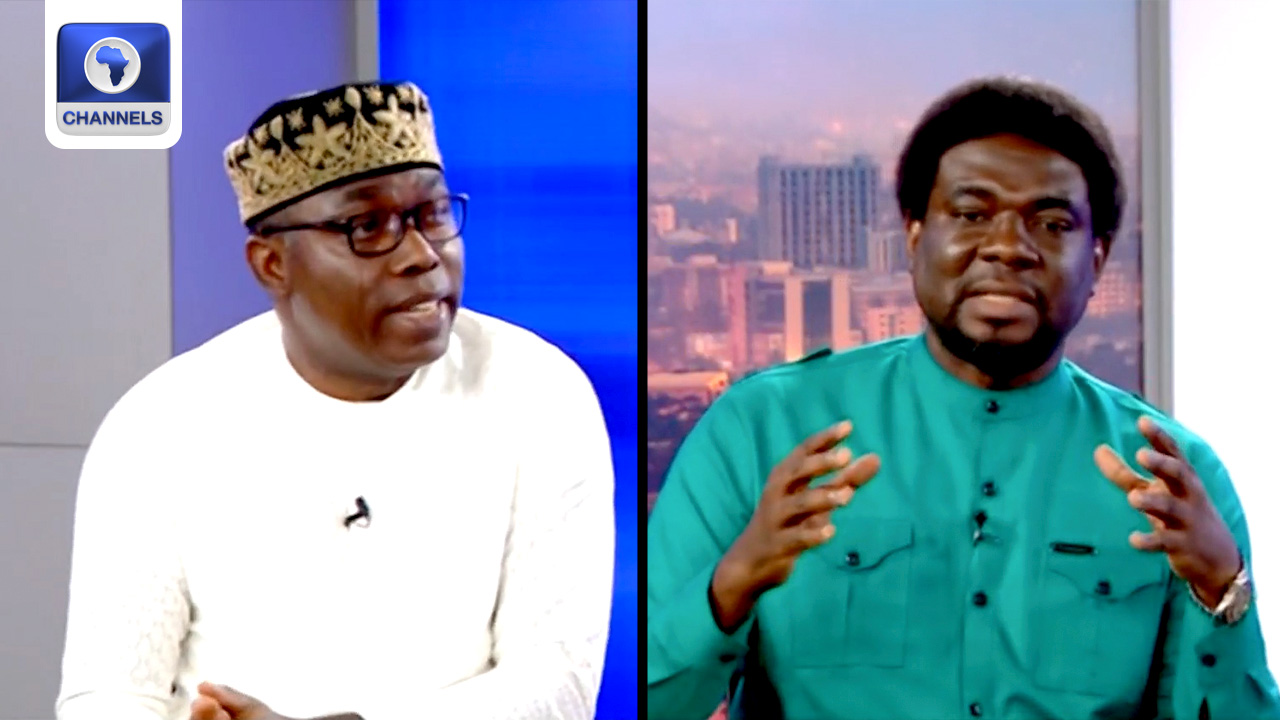 Nigerians have continued to express resentment to the fuel subsidy which was confirmed to have been removed by President Bola Ahmed Tinubu on Tuesday, even as the President of the Trade Union Congress of Nigeria, Festus Osifo, and the presidential candidate of the Social Democratic Party (SDP), Adewole Adebayo, locked horns on Tuesday during a debate over fuel subsidy removal.
President Bola Tinubu, in his inaugural speech on Monday, had declared that "fuel subsidy is gone," leading to panic buying and hoarding of Premium Motor Spirit (petrol) across the country.
While debating the topic on Channels Television's Politics Today, Osifo queried Tinubu's choice of words, noting that based on the President's own admission, subsidy would still be in play until the end of June.
But Adebayo, in a bid to counter the trade union president, accused the TUC leadership of compromise, saying, "This is why they don't have the credibility to lead labour. This is the reason why — because they are just looking for relevance. You have to make the issue very clear.
"There are two things you can do now: You must have subsidy because they've passed the law. We were protesting; you were collaborating with those who would say…. They were busy negotiating money for elections, how to collect money from politicians."
Responding to the weighty claim, Osifo asked the SDP candidate to show proof or "take that back." Despite repeated attempts by the TUC president and the presenter, Seun Okinbaloye, to get a retraction from the SDP candidate, he refused.
Osifo then took aim at Adewole, saying, "While It is now I knew why you performed abysmally in the elections, because you don't even understand Nigeria's problems. You don't understand Nigeria's issues. You clearly don't understand economics.
"You clearly don't understand what Nigeria represents. I wonder why a party like the SDP would go and look for somebody like you who is clearly a quack."
Recall that President Bola Ahmed Tinubu's administration took off on a chaotic start with oil marketers shutting their gates to motorists in reaction to his Monday's inaugural address, where he announced an end to petrol subsidy regime.
Checks by Frontline showed that many filling stations in Abuja and environs had long queues snaking several meters as motorists scrambled to stockpile petrol as experts noted that petrol may go as high as N700/litre in a deregulated environment.
Frontline also discovered that dubious oil marketers are taking advantage of the Tinubu's pronouncement to create artificial scarcity, which will force motorists to buy petrol at cutthroat prices.
From Kubwa to Wuse, CBD to Garki, fuel queues literally choked the Federal Capital Territory (FCT).
As always, black marketers capitalised on the scarcity to fleece motorists who are not able to queue for petrol in filling stations.
Within the FCT metropolis, a litre of a compressed 10-litre of petrol sold for N8,000, which translates to N800/litre.
Experts who analysed Tinubu's inaugural address described the subsidy abolition part as insensitive and reckless since former President Muhammadu Buhari's administration had budgeted N3.6 trillion for subsidy payment between January and June this year.
They also said that solid intervention programmes that will ameliorate the anticipated post-subsidy hardship have not been designed and administered to warrant the sudden removal.
Meanwhile, the Nigerian National Petroleum Company Limited (NNPCL) and the Nigerian Midstream and Downstream Petroleum Regulatory Authority (NMDPRA) have backed Tinubu's move to immediately end fuel subsidy.
The Group Chief Executive Officer of NNPCL, Mr Mele Kyari, at an emergency press conference at the NNPC Towers on Monday night, told Nigerians that the move was in the best interest of the country.
Kyari said subsidy payouts have continued to gulp a substantial amount of its profits, leaving it with leaner resources to operate.
He, however, said there was no need for panic buying as fuel queues had been noticed in some areas of the FCT.
He noted that the company had enough product to supply the country for the next 30 days, adding that it was monitoring its supply and distribution networks around the country.
Under the former President Muhammadu Buhari, the Federal Government announced in January that it would stop the payment of fuel subsidy by the end of June.
Former Minister of Finance, Budget and National Planning, Mrs Zainab Ahmed, disclosed that in the 2023 fiscal period, the government had made provisions of N3.36 trillion for fuel subsidy payment to cover the first six months of this year.
This, she stated, was in line with the 18-month extension announced in early 2022.
She also noted the Tinubu administration will work out modalities on how the $800 million World Bank loan earmarked for 50 million vulnerable Nigerians as a shock-responsive safety net ahead of the fuel subsidy removal in June, would be utilised.
In a related development, the Nigerian Midstream and Downstream Petroleum Regulatory Authority (NMDPRA) said Tinubu's decision to end fuel subsidy was in line with the Petroleum Industry Act (2021) which provides for total deregulation of the petroleum downstream sector to drive investment and growth.
"We are working closely with NNPC Limited and other key stakeholders to guarantee a smooth transition, avoid any disruptions in supply as well as ensure that consumers are not short-changed in any form.
"The Authority assures that there is ample supply of PMS to meet demand as we have taken necessary steps to ensure distribution channels remain uninterrupted and fuel is readily available at all filling stations across the country.
We therefore call on Nigerians to remain calm and resist the urge to stockpile as it poses a significant safety hazard.
"The NMDPRA reassures all Nigerians that the removal of subsidy on PMS is a step towards building a more sustainable and prosperous future for our nation. We will continue to monitor activities and implement necessary measures to enhance transparency and accountability in the petroleum downstream sector", it said in a statement.
ADVERTISEMENTS